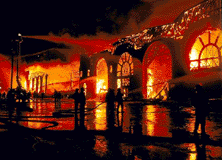 Arson occurs when someone deliberately sets fire to a building, vehicle, or nature itself. If often involves fires that are set to the property of another or one's own property in order to collect insurance compensation.
Arson Task Force
The Essex County Prosecutor's Office's Arson Task Force conducts field investigations resulting from requests by a local police or fire agency for assistance in determining the cause of suspicious fires that cause significant property damage; fires in which civilians and/or emergency personnel are killed or injured; multiple-alarm fires; fires at places of worship and county buildings; and incidents involving incendiary or explosive devices.

When a suspicious fire is reported, an investigator from the Essex County Prosecutor's Office Arson Task Force responds to a fire scene and assumes the role of lead investigator working with local fire and police departments until the investigation is completed. The Arson Task Force also works in cooperation with the New Jersey Insurance Fraud Prosecutor to criminally prosecute those responsible for acts of arson motivated by automobile or other property insurance fraud.
What is Burglary and Theft?
Burglary occurs when a person unlawfully enters a premise with the intention of committing a crime. Burglary usually involves theft, stealing or the attempt by the perpetrator to control items not belonging to him/her -- even if it's just temporarily.
What can I do to keep my home and other property safe from thieves?
The best defense is a good offense. If you see something suspicious, report the activity to the police.
Carjacking
A carjacking occurs when a vehicle is illegally taken from its driver by force, violence, or intimidation -- often at gunpoint. The perpetrator also typically steals wallets, cell phones and other valuables from the vehicle's driver and occupants. Carjacking is extremely hazardous as perpetrators may resort to pushing or dragging the driver from the vehicle or even using a weapon to immobilize the driver or occupants.

An investigative Carjacking Task Force comprising representatives from the FBI, the Newark Police Department and the Essex County Prosecutor's Office has been established to coordinate the appropriate resources and mechanisms needed to bring carjackers to justice.
Help for Victims
Your victim advocate is available to answer your questions about your case as it progresses through the criminal justice process. It's important that you keep a record of losses and other out-of-pocket expenses you've incurred as a result of the crime. Gather receipts and other documents and submit them to the victim advocate and assistant prosecutor assigned to your case. The victim advocate will assist you in completing a victim impact statement (see link to victim impact statement), a document used to detail your losses and tell the judge and others involved in your case how the actions of the perpetrator has affected you and your family. If the perpetrator is convicted of the crime, the assistant prosecutor will ask for restitution on your behalf (see link to FAQ-restitution).

If you are a victim of a carjacking, burglary or other property crime, call 911 or your local police department immediately. Contact the Essex County Prosecutor's Office of Victim-Witness Advocacy for further assistance at: 973-621-4687.